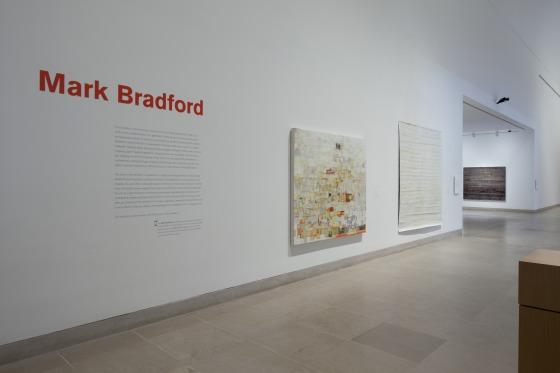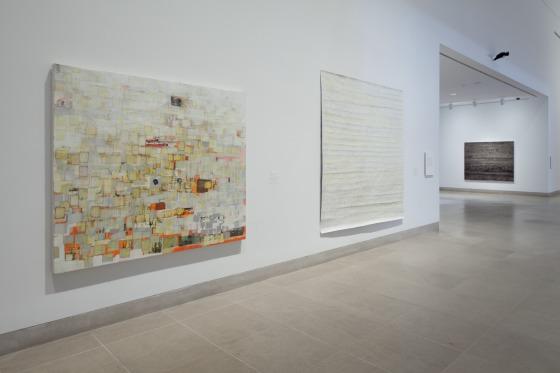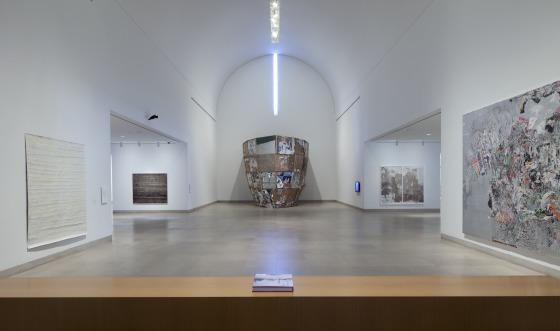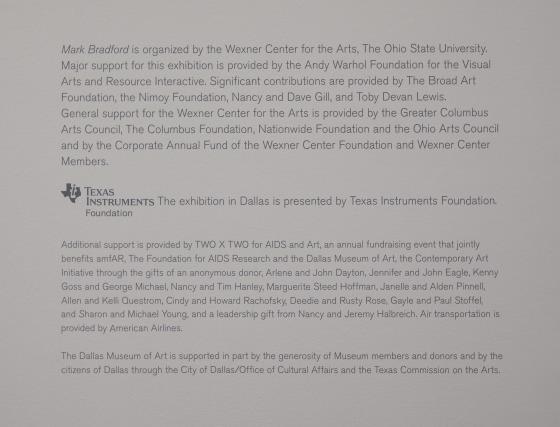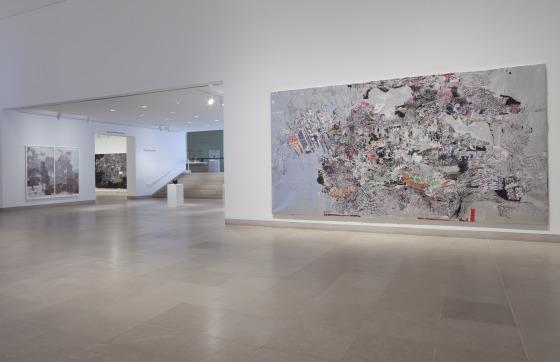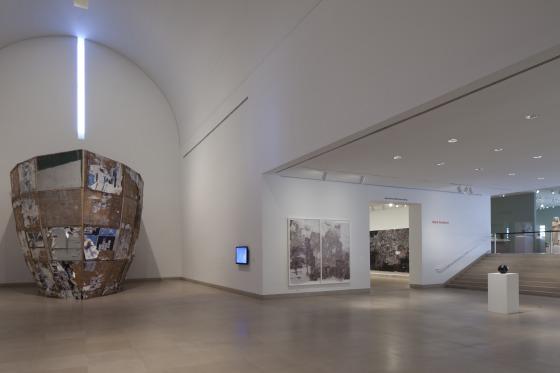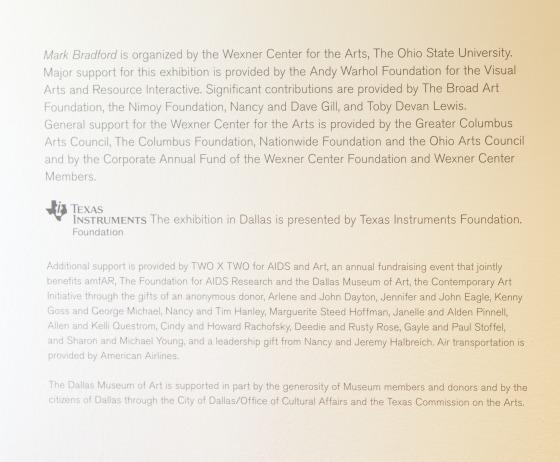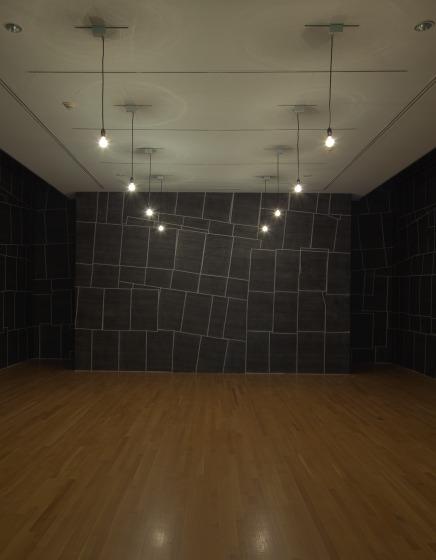 Begin Date
2011-10-16
End Date
2012-01-15
Artists
Bradford, Mark
Attendance
61578
Curators
Jeffredy Grove
Jeffrey Grove
Credit Line
The exhibition was organized by the Wexner Center for the Arts, The Ohio State University. Major support for this exhibition is provided by the Andy Warhol Foundation for the Visual Arts and Resource Interactive. Significant contributions are provided by The Broad Art Foundation, the Nimoy Foundation, Nancy and Dave Gill, and Toby Devan Lewis. General support for the Wexner Center for the Arts is provided by the Greater Columbus Arts Council, The Columbus Foundation, Nationwide Foundation and the Ohio Arts Council and by the Corporate Annual Fund of the Wexner Center Foundation and Wexner Center Members. The exhibition in Dallas is presented by Texas Instruments Foundation. Additional support was provided by TWO X TWO for AIDS and Art, an annual fundraising event that jointly benefits amfAR, The Foundation for AIDS Research and the Dallas Museum of Art, the Contemporary Art Initiative through the gifts of an anonymous donor, Arlene and John Dayton, Jennifer and John Eagle, Kenny Goss and George Michael, Nancy and Tim Hanley, Marguerite Steed Hoffman, Janelle and Alden Pinnell, Allen and Kelli Questrom, Cindy and Howard Rachofsky, Deedie and Rusty Rose, Gayle and Paul Stoffel, and Sharon and Michael Young, and a leadership gift from Nancy and Jeremy Halbreich. Air transportation was provided by American Airlines.
Active
1
Location
Barrel Vault and Hanley, Lamont, Rachofsky, and Stoffel Galleries; Focus Gallery II
Organizer
Wexner Center for the Arts
Description
Mark Bradford has emerged in the past decade as one of the most inventive and accomplished artists of his generation, extending and transforming the traditions of 20th-century American painting into an empathetic yet demanding reflection of the urgency, tension, and vibrancy of our present moment. This five-venue national exhibition marks the first major survey of this Los Angeles-based artist whose multifaceted practice encompasses painting and sculpture as well as media and sound installation. It will be specifically designed by the artist and curators to take advantage of the unique soaring and expansive architecture of the Dallas Museum of Art's Barrel Vault and surrounding gallery spaces. A 2009 MacArthur Foundation "genius" award recipient, Mark Bradford (b. 1961) is best known for his large-scale abstract paintings made from a variety of collaged materials. These include billboards, permanent-wave end papers, carbon paper, newsprint, and other types of vernacular materials that Bradford layers together (or strips apart) and then manipulates with nylon, string, caulking, and sanding. Often incorporating references to place and geography, these works not only extend the possibilities of contemporary painting but also offer an unusual and highly individual reflection of the class-, race-, and gender-based economies and realities that make up urban society in the United States. Bradford often specifically makes reference in his grand and intricate paintings to Leimert Park, the South Central Los Angeles neighborhood where the artist lived as a child and continues to maintain his studio. In addition to providing a comprehensive account of Bradford's career to date, with an emphasis on his work as a painter, this exhibition will foreground new works, including an environmental installation with sound entitled "Pinocchio Is on Fire," which examines key moments in the history of the black community in Los Angeles from the early 1980s to the present. Additionally, two new works related to "Mithra," his monumental, ark-like public art project installed in the Lower Ninth Ward of New Orleans for the "Prospect.1" exhibition in 2008, will be featured: a major new sculpture titled "Detail," which incorporates elements from "Mithra," and a film titled "Across Canal," which examines the conception, production, and reception of that work. Also commissioned for this exhibition are an ambitious suite of new paintings and four inventive new drawings incorporating graphite. The Dallas Museum of Art presentation of Mark Bradford will be coordinated by Jeffrey Grove, The Hoffman Family Senior Curator of Contemporary Art, in collaboration with Mark Bradford and exhibition curator Christopher Bedford, Wexner Center for the Arts Curator of Exhibitions. The exhibition is accompanied by a fully illustrated catalogue that will be the most comprehensive treatment of Bradford's work to date, featuring essays by Christopher Bedford, Robert Storr, Richard Shiff, Katy Siegel, and Hilton Als, as well as two interviews with the artist by Carol S. Eliel and Hamza Walker. It is co-published by the Wexner Center and Yale University Press. Following its debut at the Wexner Center in May 2010, Mark Bradford will tour to the Institute of Contemporary Art in Boston (November 19, 2010-March 13, 2011), Museum of Contemporary Art, Chicago (summer 2011), the Dallas Museum of Art (October 16, 2011-January 15, 2012), and the San Francisco Museum of Modern Art (February 18-May 20, 2012).